Testimonials By Region
View a
Map
showing how many homeowners in the last few years have planted Amazoy Zoysia in your state.
Southwest
Petaluma, CA -- Happy to brag about their lawn
"In this day and age, it is truly difficult to find a product that really lives up to what it says it will do. The product you have, your Amazoy zoysia grass, definitely does what you say it will. It spreads just beautifully. It is thick, it stays green even in a drought, and it chokes out weeds. I sincerely believe that if something is worth bragging about it should be said. Thanks for producing such a great grass." --J.O.
Las Vegas, NV -- An Oasis in the Desert
"In 1992, my wife and I were assigned by the Air Force to Las Vegas, Nevada where we moved into base housing. It looked like the rest of the Nevada desert - BARE! We tried to grow all kinds of grass, flowers and shrubs and boy were we frustrated. Nothing grew. Then my wife saw your ad and told me about zoysia grass. We decided to try it, and let me tell you, that bare area now looks wonderful. I even made my own plugs and put them in the front and back yards. Eight years later I passed by that house. What a surprise! While neighbors were out working on their yards, the new occupants had a sign out in front which designated it the 'Best Yard in the Compound'. We have just moved to Wyoming and look forward to trying zoysia there." --R.K.
San Bernardino, CA -- Lush and thick
"I wish I had a picture to send you to see how lush and thick my lawn is." --J.M.
Fresno, CA -- Love results
"We purchased plugs about 2 years ago and love the results." --J.C.
29 Palms, CA -- Wonderful
"Grass is wonderful." --A.S.
San Bernardino, CA -- Great for transplanting
"We are super satisfied and we even have plugged the lawn to create more lawn elsewhere." --J.M.
Fresno, CA -- Pleased with our lawn
"It took a little time for the grass to take hold and we had a few plugs that died in the process but we are very pleased with our lawn now." --J.C.
New Mexico -- Low Maintenance
"The lawn is everything it was promised to be. Beautiful, green, soft, low maintenance. The year after planting the lawn (1998) we won the yard of the month." --M.H.
Visalia, CA -- 30 years since planting and still looks great
"I just wanted to let you know I have had my zoysia lawn now for over 30 years. Back in '72 we planted the plugs, checkerboard fashion and after a few weeks we did have a few dead plugs, but your firm was kind enough to replace them for me. We did have a little trouble at first because of too much shade but after a little tree trimming, they started to grow real well. It took two years to get a complete coverage but the wait was well worthwhile. We have, to this day, the prettiest lawn in the whole neighborhood." --W.S.
Wickenburg, AZ -- Grew in desert conditions
"When we moved here we were told by our landscape architect, that the zoysia would not grow here (we are intermediate desert). But we tried it anyway. Was he ever embarrassed a couple of years later when he saw our thick lush lawn." --J.N.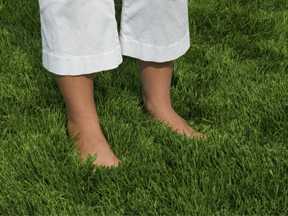 Fresno, CA -- Got free replacements
"We called the customer service line and they replaced the plugs that didn't grow, no questions asked. You can trust this company and their guarantee." --J.C.
San Bernardino, CA -- Great product
"Your ads are all they say they are. Thank you for a great product!" --J.M.
Montrose, CO -- Doing great
"The free replacement plugs you sent are doing great. Thank you very much." --JB
Grand Junction, CO -- Our yard has never looked so good.
"We had several areas in our yard that we could not grow grass in for one reason or another, like sandy soil and shade from a big tree. I couldn't get anything to grow in those areas. I tried seed, had the stuff hydro-turf (blown on). It all died!! But not Zoysia it has taken off nice and green and spreading like a weed. A very good weed...it has never looked so good. Thank you and your company!!" --J.M.
Salt Lake City, UT -- Planting the plugs is easier and less work
"The parking strip near the street was a disaster and my husband wanted to dig up the sprinklers and replace them. I asked him to give me one growing season and see if planting Zoysia would work. At this point, the plugs have been in that area for 10 months. My husband remarked that he didn't know what had happened, but that part of our yard looked so much better. He is still not a believer, but I sure am. I ordered more plugs to supplement other areas of our yard and look forward to them all filling in over the years. Planting the plugs is easier and less work than changing our sprinkler system. Thanks" --M.L.
Zoysia in the News
FresnoBee.com, CA -- Zoysia does well in Southern California and San Joaquin Valley
"In addition to home landscapes, Zoysia is ideal for golf courses, playgrounds and parks. It does well in much of Southern California and the San Joaquin Valley. It needs less fertilizer, water and mowing than cool-season turf. " --Home and Garden, www.fresnobee.com