Testimonials By Region
View a
Map
showing how many homeowners in the last few years have planted Amazoy Zoysia in your state.
Mid-Atlantic
Lusby, MD -- Awesome
"I am so excited at seeing the new runners taking off now and filling in my 25' x 25' area so I can get my own future plugs to do the rest of my lawn. This grass is awesome." --J.C.
Newport News, VA -- Beautiful plush and green
"We bought Zoysia plugs when we were at our first home and we planted the plugs. I figured it wouldn't work. After plugging about half of the plugs, we stopped. I just want to say, we sold that home in June 1999 and the area in the back yard that we plugged was so beautiful, plush and green. It was like stepping on carpet." --W.S.
Maryland -- Neighbors will ask about Zoysia
"All of our neighbors stop and always ask us questions such as what do you have to do to make your yard look like a carpet. I smile and say see what I'm doing right now sitting here sipping tea and watching my three year old son running barefoot in grass that's what I have to do. Of course it becomes a laugh and then I tell them it is from Zoysia Farm Nurseries" --M.T.
Ellicott City, MD -- Survives drought
"I ordered a limited amount of Zoysia plugs last spring from you to plant in a spot in my backyard for a test. It's weed-choked with fairly poor soil, I plugged, watered, then gave up because it was in the middle of the drought. I thought weeds choked out my plugs. I was pleasantly surprised two weeks ago to see the plugs had survived without my attention, and had expanded! I immediately ordered more plugs, and am placing another order today." --E.P.
Pittsburgh, PA -- It wasn't a dream
"The first year it showed no sign of growing.This year it started growing so rapidly that I thought I was dreaming." --H.M.
Springfield, PA -- Very pleased
"We are pleased to advise you that our Zoysia grass, which we purchased two years ago, is coming along very nicely and our front lawn is practically solid with this year's growth." --A.W.
Baltimore, MD -- Drought Resistant
"It is hardy, drought resistant, and is not bothered by disease. As for color, it is, much better than Bermuda. You have something thick and firm to walk on. Children can play on it and not get muddy as on other lawns." --J.R.
Newport News, VA -- Low Maintenance
"Now that I know it works and have seen proof that it works I'm hooked for life and would recommend Zoysia plugs to everyone that is looking to have a beautiful lawn with very low maintenance and a lot of results!!!" --W.S.
Maryland -- Save time, money and work
"All I can say is when you are ready to improve the value, looks and pleasure of your landscape around your home save time, money and work, call the pros at Zoysia Farm Nurseries. Start enjoying your lawn like we do." --M.T.
Maryland -- Even in the heat of summer it is lush and green
"Amazoy Zoysia grass is truly amazing. We put it in a few years ago and everyone in our neighborhood agrees we have the best lawn! Even in the heat of summer it is lush and green without watering.
Duquesne, PA -- No weeds
"My lawn is beautiful, no weeds, and it feels like a carpet. It springs right back." --R.L.
Bethel Park, PA-- My lawn is beautiful
"I planted 100 plugs three years ago, and today that part of my lawn is beautiful." --M.B.
Pittsburgh, PA-- Amazed at the quality and appearance
"Have two plots of zoysia about 20' x 25' in my lawn already. Everybody who walks on it are amazed at the quality and appearance. I've been passing out literature to friends and neighbors who stop to talk about it." --H.W.
Pittsburgh, PA-- Many compliments
"My grass is doing well and I like it a lot, have had many compliments on it." --M.G.
Pennsylvania -- Extremely pleased
"Several years ago I purchased three hundred plugs and wish to advise that they are growing and spreading beyond all expectations. I am extremely pleased with the results." --T.T.
Maryland -- Questions answered
"After the sale if you have any questions watering needs fertilizing call them and they will take the time to answer you. It is so uncommon in today's world the way things are hurry up make the sale forget the customer type attitude, not at Zoysia Farms Nurseries." --M.T..
Ellicott City, MD -- 2 generations of zoysia
"Between my mother's home and mine, we have 1 full acre of gorgeous zoysia from your company. I purchased mine back in 1987 when I bought my new home." --K.K.
Dale City, VA -- 30 year success story
"I am a zoysia customer for 30 years. I have comments on it all the time wanting to know what carpet they are walking on and how green it is in the summer and how thick it is." --J.T.
Alexandria, VA -- Loves lawn
"I had a zoysia lawn when I lived in Alexandria, Virginia and loved it." --A.B.
Templeton, PA -- 25 year success story
"We ordered enough plugs to do around 800 square feet and proceeded to plant them. Not only did the plugs take off and grow, today, 25 years later, there is hardly a place on our front hill that is not covered. Believe it or not, this occurred without the need of replugging at all. I am contacting you for the sake of acknowledging a great product. The best part is that with my busy schedule, I only have to worry about mowing my front yard about every third time. This really means a lot." --K.S.
Matawan, NJ -- Fulfilled great expectations
"I am very proud of the way my plugs of Meyer Z-52 grass have grown and spread and it is all that you have claimed for it." --A.B.
Glen Rock, NJ -- It is everything claimed
"Your zoysia plugs fulfilled my greatest expectations. The neighbors who remember when I planted my plugs always are amazed every summer when their lawns turn brown & weedy and mine stays bright green and thick as a rug." --W.M.
Bound Brook, NJ -- Plugging other areas
"I bought your Zoysia plugs about 3 years ago. The plugs did beautifully. I pulled plugs from newly formed area and placed in another area last year for extending your zoysia grass." --J.L.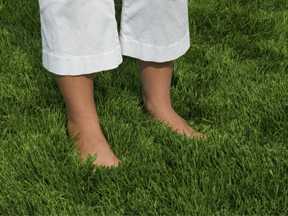 Hawthorne, NJ -- Lawn second to none
"I started my lawn with your Zoysia several years ago and our patience has been richly rewarded. We now have a section of lawn second to none in our area, and many of our friends ordered your product and now have theirs going." --C.C.
East Paterson, NJ -- Thriving beautifully
"The zoysia which I purchased from you has been thriving beautifully." --E.D.
Linwood, NJ -- Very pleased
"My lawn is becoming the envy of my neighbors. I have 12,000 plugs in now and it has almost all filled in. Very pleased." --G.D.
Middlesex, NJ -- Great for transplanting
"I write this to tell you how satisfied I have been over the years with Zoysia. I bought my first shipment over 30 years ago for a home I no longer own. The place to which I moved 20 years ago, an acre lot, already had some zoysia. It has been expanding ever since. I have since transplanted some at both my daughter's and my son's property." --R.W.
Baltimore MD -- We have two German Shepherds
"They love to roughhouse in the backyard. We tried all kinds of grass seed and nothing could stand up to the dogs. Our yard was essentially dirt or mud when it rained. We planted a small area of zoysia grass and to our surprise it came back up the next spring. We went back to zoysia to cover the rest of the yard. We are thrilled to have a nice green yard that needs to be cut for the first time in years and our dogs love it too!" --J.W.
Frederick MD -- The grass is like a medium green carpet.
"I first ordered your zoysia two years ago. The plugs have taken and I have a wonderful patch growing by my pond. Still showing a few weeds, but hope with time the Zoysia will choke them out. My dad, years ago put in Zoysia plugs into his lawn. Today the Zoysia has taken over his backyard and the grass is like a medium green carpet." --M.B.
Hightstown NJ -- Amazoy lives up to its billing
"I had asked the lawn service to bring in topsoil for a specific area. They dumped fill dirt instead. Tried living with the situation over two years seeding and nurturing NO LUCK. After 8 months with zoysia I can see the whole area filling in nicely by the end of next year. Ordered more plugs already. Good product...lives up to its billing" --W.D.S.
Richmond VA -- Not one weed or strand of crabgrass to be found
"The 4-foot wide area between the front sidewalk and the curb is no-man's land for anything but crabgrass and weeds. The soil there is bone dry and hard and in two years of trying to grow other grasses I was unsuccessful. As a last ditch effort I bought your plugs. They arrived dry and brown but I planted then anyway as you suggested. I had nothing to loose. I really forgot about the plugs, but 3 years later they had completely taken over the area. It is thick and green and there is not one weed or strand of crabgrass to be found in that patch. I am amazed every time I run my fingers through it. This summer I am going to plug my entire yard with your zoysia plugs." --P.P.
Bayville NJ -- I could see that the Zoysia was overtaking the existing mess
"I planted Zoysia grass originally to try to get a consistent lawn. My yard had been made up of a variety of grasses and weeds. In the first year I could see that the Zoysia was overtaking the existing mess. Within the next 2 years the original inconsistent lawn was completely replaced with a consistent green carpet. Recently our area was upgraded to town utilities. Unfortunately this necessitated digging up our lawn. I went back to the source Zoysia Farms and bought more. It's been in for 6 weeks and is already starting to fill in the area. Thanks for a great lawn." --P.H.
Parlin NJ -- Last year my planting was troublesome
"Just a quick note. Last year my planting was troublesome, but this year I learned from past mistakes and can honestly say that virtually all of my zoysia plantings are thriving with noticeable growth. After the poor messages of last year I figured to say something nice for a change. Thank you for your help." --J.M.
Zoysia in the News
Mike Answers More Emails -- WTOP Radio, VA -- It's a great grass that really crowds out weeds
"The first thing to understand is that zoysia is a warm-season grass that goes dormant in the winter. It's a great grass that really crowds out weeds. You order plugs, not seed, so it's almost always a mail-order purchase. Whether you planted yourself or hire a helper depends on the size of your lawn and your physical ambitiousness" --Mike, www.wtopnews.com
Pike County Dispatch, PA -- Zoysia does well in the mid-regions
"Zoysia does well in the mid-regions, and various Bermuda grasses, St Augustine, and bahia species do well in the south." --Pike County Dispatch
Burlington County Times, NJ -- Zoysia is a slow growing warm season grass that will do OK
"Zoysia is a slow growing warm season grass that will do OK... If you have full sun and a well-drained, slightly acidic soil." -- Jeff Rugg -- Copley News Service
Virginia Tech, VA -- Zoysia has many desirable characteristics
"I very strongly believe that Zoysia has many desirable characteristics, especially in our transition zone climate. I think it's a vastly underused type of grass, especially in areas that are likely affected by water restrictions that also must deal with hot summers and cold winters.
Zoysia's relatively slow growth habit means that it's slow to fill in. It typically takes 12 to 18 months for the plugs to grow together if planted according to instructions (one plug per square foot). Of course, its slow growth habit can also be a positive, because it keeps Zoysia grass from being aggressively invasive like Bermuda grass.
Once you achieve that turf canopy you desire, you've got a very thick lawn that needs less watering, fertilizer and maintenance than most other turfgrasses. I think that most people will be pleased with the results." -- Mike Goatley, Extension Turfgrass Specialist, Virginia Tech