Testimonials By Region
View a
Map
showing how many homeowners in the last few years have planted Amazoy Zoysia in your state.
More Testimonials...
Honoring guarantee
"I have to say, I ordered from zoysiafarms.com and was very happy with how quickly the plugs came. They were a little brown, but greened up very fast. I did have some not grow and emailed the company, and they responded to my email and are in the process of honoring their guarantee." -- D.G.
Only needed cutting once a month
"I remember when I was a kid cutting lawns for a few bucks. One customer I had, had zoysia grass and I used to love to cut her lawn cause I could do it barefooted. If felt so good on the feet. It was like walking on a thick-carpeted mattress. The only problem was that I didn't have to cut it but once a month." -- F.B..
Lives up to advertising
"My parents have it and it's great. It really does all the things that it is advertised to do." -- T.M.
Ordering more
"My wife ordered 50 plugs and they came in and were brown. I told her they were not any good. She planted them in the back yard. Two weeks later they greened up and I had to take back my words. We are going to order more this spring." -- T.C.
No more weeds
"Although it was a lot of work planting the plugs (we had a large lawn) the work was well worth the effort. After about two growing seasons, our lawn looked so beautiful, without any weeds, that our lawn was the envy of the neighborhood." -- U.D.
Great for transplanting
"My boss at work told me about zoysia and brought me some plugs from his own yard. I took them and transplanted them in a small inconspicuous area on the side of the house because I have never heard of zoysia grass and had no idea how it would look or whether it would even grow in our soil. We've had great results from those few plugs within the last few years. Now we recommend zoysia to everyone we know that wants a great looking lawn." -- P.L.
Survives summer heat and drought
"I just want to comment how happy my husband and I are with this lawn. We bought our plugs about 5 years ago. When we were on our hands and knees putting in each plug I thought this better be worth it. Well our yard is the envy of the neighborhood. Each year we could see it spreading. Now it is like a carpet. It is so thick. Last year in the dry weather everyone's yard was brown. Ours looked great. I know people thought we were watering in the dark of night. My husband and I are so proud of our Zoysia yard." -- K.M.
Neighbors took transplants
"When my father started planting it, our neighbors thought he was crazy because you could barely see the plugs in the big yard. Wouldn't you know that every time we trimmed the edges, a neighbor would come over and ask my father if he could give it to them. Very soon the whole block had zoysia." -- W.K.
Great around pools
"When I was a little girl my parents always had Amazoy zoysia grass. It was always so beautiful and green, especially around our pool. Now, several years later, married with a family of my own, I want that same beautiful lawn." -- P.B.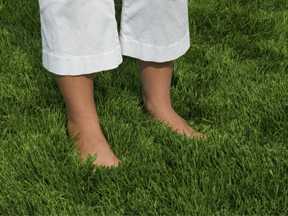 I have never seen a grass come back so thick
"When my plugs from Zoysia Farms arrived, they were dormant and dry. But thank heaven for zoysia. I have never seen a grass come back so thick and green. That blue tint they give off is beautiful. After two months, the roots are so established and deep. The runners are everywhere and I can't pull them out of the ground. I can't wait to see the final result." -- L.M.
Zoysia in the News
Eco-friendly living -- Needs less H20
"The only way to redeem your soul is to use drought-resistant, slow growing turf varieties like zoysia grass, which needs less H2O." -- outsideonline.com
Leigh Anne Monitor -- Birmingham Post-Herald -- It also spreads rapidly
"If you have a yard that has less than full sun but still sees five hours of sunlight a day, zoysia would be a good grass choice, especially the Z52 variety, Betts said. Zoysia grass originated from Southeast Asia, China and Japan. It is a low growing, creeping grass, is heat resistant and wiry. Once established, it seldom needs watering and grows in a mid-level green throughout the summer. It also spreads rapidly...after it's established. It usually weeds itself because it grows so thick. It doesn't grow well in excessively shaded areas, experts said, sunlight less than five hours a day", Betts said. -- Brenda Betts, garden center manager of Chalkville Ace Hardware