Testimonials By Region
View a
Map
showing how many homeowners in the last few years have planted Amazoy Zoysia in your state.
North Central
Chicago, IL -- No more "burn" spots
"There were over 200 yellow burnt spots in our lawn from our dog. It was so ugly and depressing; we didn't know what to do. Then, we saw your ad for Amazoy zoysia grass plugs and decided to give zoysia a try. We planted your grass plugs this spring and cannot believe how beautiful our new lawn is. Our friends and neighbors are amazed and want to try your grass plugs too." --N.K.
Redford, MI -- Grubs can't touch zoysia
"I never thought that I would be writing to a company about how satisfied I am with a product, but I just had to tell you my story about your zoysia grass. Last fall while I was looking at a neighbor's lawn, a friend pulled up a chunk of dead looking grass. "White grubs," he said, "they're eating up this guy's lawn!" By spring you could really see the devastation that the white grubs had caused in lawns all over this Detroit suburb. I have an Amazoy zoysia lawn and I was satisfied with it before - less watering, less mowing and no weeds or crab grass. And amazingly, white grubs won't touch the zoysia. They didn't even touch a root. I couldn't believe it!" --D.H.
Crestwood, KY -- Very happy
"Very happy and just bought more for 2005." --S.E.
Godfrey, IL -- Moved and buying again
"I have bought your grass before and think it is great but I've moved and would like to grow a new lawn." --D.J.
Martins Ferry, OH -- Growing beautifully
"Two years ago I bought some zoysia grass plugs from you and I'm so pleased with the lawn. It sure is growing beautiful. I still say whoever buys zoysia grass will have the most beautiful and carefree lawn ever. I just love mine. I recommend and praise it highly to everyone who stops by and inquires about it." --O.B.
Carmi, IL -- Most beautiful lawn in town
"Several years ago I purchased some Zoysia grass from you and my only regret is that I did not order more at the time. It has now grown into the most beautiful lawn in town." --G.H.
Alton, IL -- Love it
"Last summer it took over, living up to all your claims, and we remembered zoysia. We love it and hope to eventually cover our very large back yard with zoysia." --N.S.
Sterling, IL -- Others admire
"Years ago I started using your grass and now have a portion of my lawn, very beautiful. Many folks stop and admire it, ask where to get, etc." --F.D.
Bellwood, IL -- People in cars driving by stop and ask questions
"Neighbors are always bringing their guests to see what a beautiful lawn we have. People in cars driving by stop and often ask questions." --M.H.
Hamilton, OH -- Excellent results
"I planted Zoysia plugs a few years ago in the spring of the year and had excellent results." --R.S.
Oak Park, IL -- Very lush and spreading
"A few years ago we ordered some of your Zoysia grass plugs. We planted them as directed and the grass has grown to be very lush. It spreads slowly but surely." --G.W.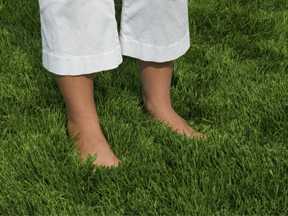 Louisville, KY -- Beautiful yard
"We had zoysia shipped in to us for our back yard. After about 3 years we had a beautiful back yard." --K.L.
Broadview Heights, OH -- Fabulous grass
"I just got my zoysia a couple of months ago and it had absolutely covered my entire yard with luscious green grass. I have tried many other products for my lawn but none have worked as well as zoysia. All of my neighbors ask me how I did it, I just say "It's zoysia". Thanks for inventing this fabulous grass." --B.C.
Rockford, IL -- Appreciate value of zoysia grass
"This year we have really come to appreciate the value of this grass. We live on a small corner lot and the only place we have this type of grass is in the front corner. The rest of the yard is or should I say was just your everyday common grass. This spring my husband decided to fertilize and kill weeds and applied some mixture that was wrong and it killed everything except the zoysia grass. As a result that part of the yard is still beautiful and the rest of the yard is dirt and weeds. It sure does pay to have zoysia grass in ones yard." --T.K.
Louisville, KY -- Reordering
"I have found it has taken 3 years to become beautiful and I love it. I want all of my backyard Zoysia. This is my second order." --B.C.
Keokuk, IA -- Very Hardy
"It is very hardy, stands wear very good, crowds out invaders. Does not need too much maintenance." --E.L.
Lima, OH -- I'll get some more next spring
"Thank you, very much for the replacement zoysia grass. They were planted the next morning and are looking great. Ill be ordering more next spring." --J.S.
Fertile, MN -- It's nice doing business with such an honest company
"My replacement grass came yesterday. I want to thank you so much for your help with how to plant these properly and for sending the free replacement grass. It's nice to do business with such an honest company." --J.D.
Zoysia in the News
The Ann Arbor News, MI -- If you don't like to mow, then zoysia is for you
"If you don't like to mow , then zoysia is for you. It grows a thick, tough turf that takes a lot of abuse and is not fussy about needs for fertilizer or water, other than rainfall. Zoysia is a bully in a lawn populated by bluegrasses, ryes and fescues. It will quickly, and without mercy, crowd them out." --Ed Hutchison, Ann Arbor News Bureau